10FT Pallet Dolly for Airport Cargo
Cargo Dollies/ Cargo Trailers
The 10FT pallet dolly for airport cargo is designed especially for airport container or pallet loading, unloading and transporting. The dolly is labor saving, safe and quick for cargo transporting. It also offers strong loading capacity and flexible rotation. It is suitable for airports, railway stations and other places for transporting cargo pallets, large cargo containers, and cabinets, etc.
This pallet dolly can handle 125''X 96'', 125''x88'' and 108''x88'' cargo pallet, plus P1P, P6P , LD1, LD3 and LD8 cargo container.
Features
1) With swivel casters, this pallet dolly is adjustable in multiple directions, making the operation more flexible.
2) The whole dolly is made of high quality steel to be sturdy and durable. It also has large loading capacity of as much as 7000kgs.
3) When the tow-bar is upright or released, the braking is automatically applied to keep safety.
4) The roller helps to put the heavy cargo on the pallet dolly. It also has a strong bearing capacity and the whole roller bed can load at least 7000kgs.
5) This dolly is convenient to maintain.
6) The walkway adopts a anti-slipping steel plate. The main moving parts use anti-wear alloy bushings with galvanized surface to be rust-proof.
Custom service
1) Logo can be printed base on clients' requirements.
2) The surface can be painted or galvanized.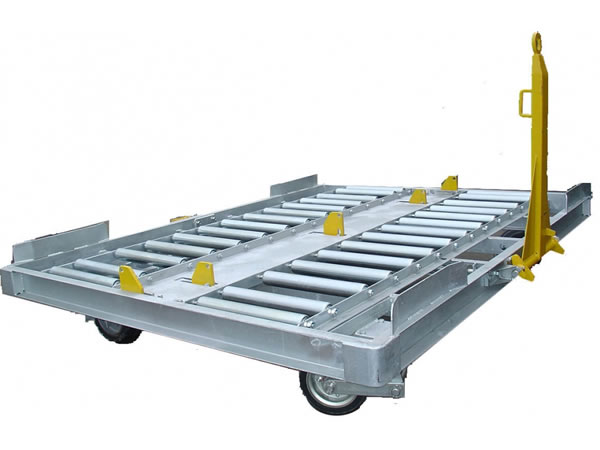 | | |
| --- | --- |
| Model | HD-P011703 |
| Overall dimension | 3660 x 3460 x570 mm |
| Working platform size | 3460x 2660 x 510 mm |
| Roller bed height | 508– 515 mm |
| Payload | 7000 kgs |
| Own weight | 1150 kgs |
| Max. Towing speed | 25 km/h |
| Roller row number | 2 rows |
| Steering | Swivel castors steering |
| Loading | 96" sides loading |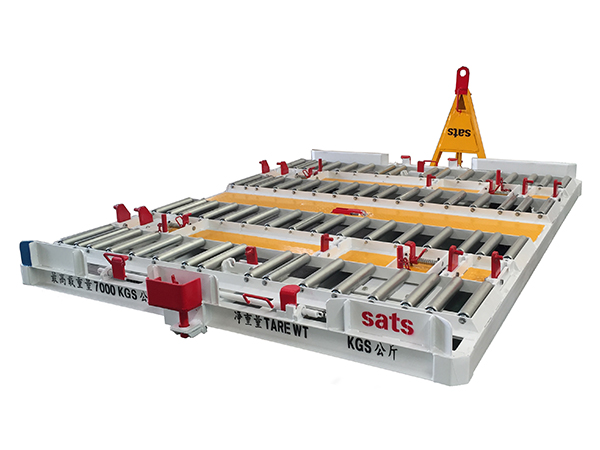 | | |
| --- | --- |
| Model | HD-P011704 |
| Overall dimension | 5023x2600x571 mm |
| Working platform size | 3300x2600x510 mm |
| Roller bed height | 508– 515 mm |
| Payload | 7000 kgs |
| Own weight | 1350 kgs |
| Max. Towing speed | 25 km/h |
| Roller row number | 4 rows |
| Steering | Bearing turntable steering |
| Loading | 125" sides loading |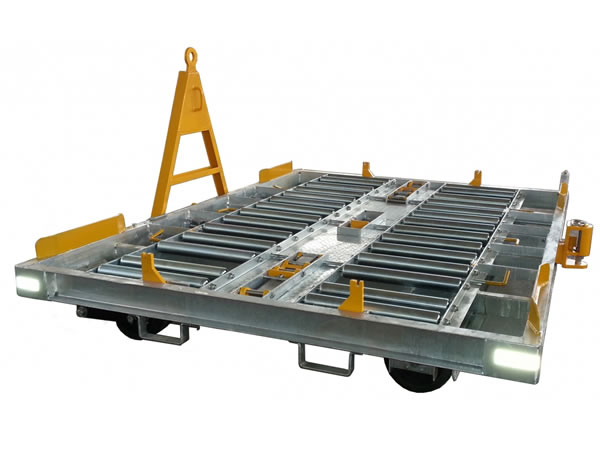 | | |
| --- | --- |
| Model | HD-P011707 |
| Overall dimension | 4137x3460x560mm |
| Working platform size | 3460x2610mm |
| Roller bed height | 508–518mm |
| Payload | 7000kgs |
| Own weight | 1150kgs |
| Max. Towing speed | 30 km/h |
| Roller row number | 2 rows |
| Steering | Swivel castors steering |
| Loading | 96" sides loading |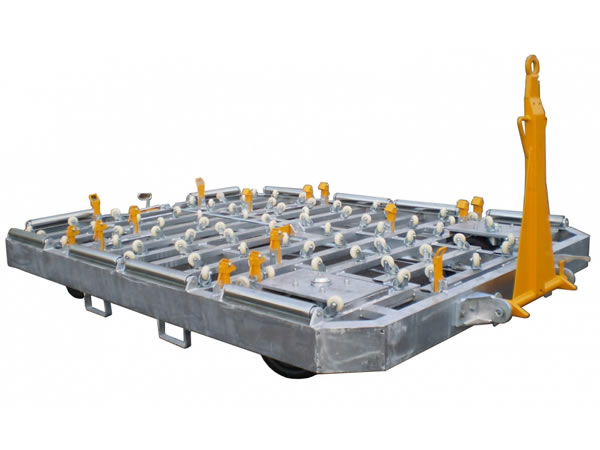 | | |
| --- | --- |
| Model | HD-P011708 |
| Overall dimension | 4740x2675x560mm |
| Working platform size | 3505x2675mm |
| Roller bed height | 508–518mm |
| Payload | 7000kgs |
| Own weight | 1150kgs |
| Max. Towing speed | 25 km/h |
| Roller | Heavy duty universal guiding wheel and roller |
| Steering | Swivel castors steering |
| Loading | 125" sides and end loading |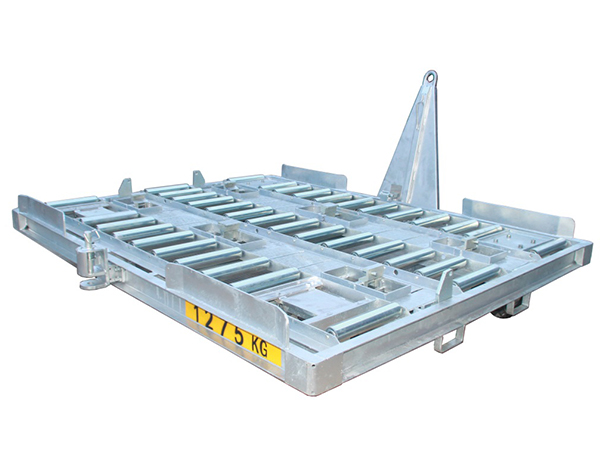 | | |
| --- | --- |
| Model | HD-P011709 |
| Overall dimension | 4084mmx3356mmx560mm |
| Working platform size | 3356mmx2620mm |
| Roller bed height | 508mm-518mm |
| Payload | 7000 kgs |
| Own weight | 1275 kgs |
| Max. Towing speed | 25 km/h |
| Roller row number | 3 rows |
| Steering | Swivel castors steering |
| Loading | 96" sides loading |