Airport Baggage Loader, HD-CB801
Baggage Loading And Unloading Vehicle, Baggage Conveyor, Mobile Baggage Loader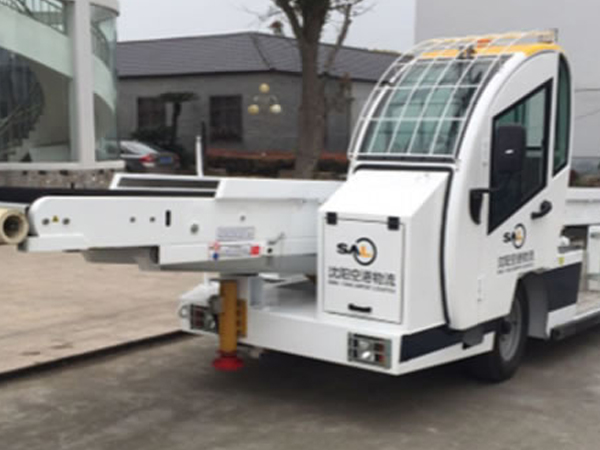 The HD-CB801 series belt loader is mainly used in airports for loading and unloading baggage, parcels, mail and other types of cargo. It is applicable to B737, B747, B757, B767, B777, A320 series, A300, A330, A340 and other series of aircraft models.
This belt loader is mainly made up of a conveyor belt, holder, front and rear lifting mechanism, chassis frame, operator cabin, hydraulic system, engine assembly, service braking system, electrical system, front and rear axle, etc.
Features
HD-CB801 belt loader has a loading capacity of up to 1200kgs.
The conveyor belt frame consists of rollers, being sturdy, durable and free of regular maintenance.
This loader adopts a belt with high tensile strength and good wear resistance. The conveyor belt has a large friction coefficient, keeping the baggage from slipping freely on the belt.
The conveying device equips hydraulic balancing equipment to convey the heavy luggage of 400kgs. The conveying speed is adjustable to ensure safe and reliable conveying.
The operator cabin has a beautiful and elegant design, of convenient and comfortable operation. The cabin console is equipped with various types of function instruments, console switches, indicators, etc. This allows easy and convenient operation.
The hydraulic system parts and electric parts are all from internationally universal and reliable products, ensuring equipment quality.
This belt loader adopts vacuum assisted dual circuit hydraulic braking system. Just by lightly stepping on the pedal, you can brake the loader. This makes the braking safer.
The hydraulic system in lifting mechanism and outrigger structure is set with hydraulic inter-locking device. The hydraulic oil cylinder has hydraulic lock. And the electric is controlled by integrated circuit board.
The rotating switch of the conveyor belt adopts internationally universal and quality-reliable switch. So it has stable performance, long service life and convenient replacement. Besides, all the exposed control devices have functions of rain proof and moisture proof.
Paint used in the rack board, the outer shell of the operator cabin, the loader frame and other parts adopt three-layer painting process. This is beautiful, eco-friendly and anti-corrosion.
Parameters
| | | | |
| --- | --- | --- | --- |
| Product model | HD-CB801 | HD-CB801A | HD-CB801B |
| Aircraft side (front) height range | 1200~4300mm | 1200~4300 mm | 1200~4300 mm |
| Trolley's side (rear) height range | 540~1300mm | 540~1300mm | 440~1250mm |
| Loader length | 8000mm | 8000mm | 8070 mm |
| Loader width | 2120mm | 2020mm | 2190 mm |
| Loader height (without covering/ with covering) | 1510/1930 mm | 1510/1930 mm | 1510/1930 mm |
| Ground clearance | 130 mm | 130 mm | 140 mm |
| Min. Turning radius | 6500 mm | 6500 mm | 6500 mm |
| Wheelbase | 1868 mm | 1868 mm | 1868 mm |
| Tread (front/rear) | 1750/1745 | 1750/1745 | 1750/1745 |
| Approach angle | 14° | 14° | 14° |
| Departure angle | 25° | 25° | 25° |
| Conveyor belt width | 800kg | 800kg | 700kg |
| Conveying speed | 0.3-0.5 m/s | 0.3-0.5 m/s | 0.3-0.5 m/s |
| Conveyor belt inclination | 30° | 30° | 30° |
| Max.speed | 30km/h | 30km/h | 35km/h |
| Curb weight | 3350kg | 3350kg | 3420kg |
| | | | |
| --- | --- | --- | --- |
| Engine model/brand | JX493G3/Jiangling | JX493G3/Jiangling | AK-C240PKJ-31/Isuzu |
| Power | 57KW | 57KW | 35.5KW |
| Rational speed | 3600rpm | 3600rpm | 2500rpm |
| Torsion | 174Nm | 174Nm | 174Nm |
| Diesel oil consumption | 218g/Kw.h | 250g/Kw.h | 250g/Kw.h |
| Gearbox model/brand | CAS5-20Y15 (FAW) | YYX25A(Zhong chuan) | YT48320D (undefinedOkamura) |
Parts display
Related:
Airport Baggage Loader, Cargo Loader, Airplane Conveyor Belt , Airport Equipment , Ground Support Equipment , Airport Baggage Handling Systems, Baggage Handling Systems , Roller Conveyor, Luggage System, Material Handling Equipment, Gravity Roller Conveyor, Airport Conveyor Systems, Conveyor Components